Wedding Dresses
A wedding is one of the most joyful and heart-stirring events in our lives. Surely, you already feel the festive atmosphere! This is the most important day in anyone's life. And, of course, you want to look the most charming and unique on this holiday. In this case, we have something to offer you. We invite you to immerse yourself in the world of beauty and elegance. Believe us, you have never experienced real shopping before.
Plunging into this fabulous, beautiful world, you will experience unforgettable, new emotions. You have to feel all the delights of trying all kinds of exquisite dresses. Time will fly by just unnoticed, but with great interest, as this is the most important event, and you need to prepare for it accordingly.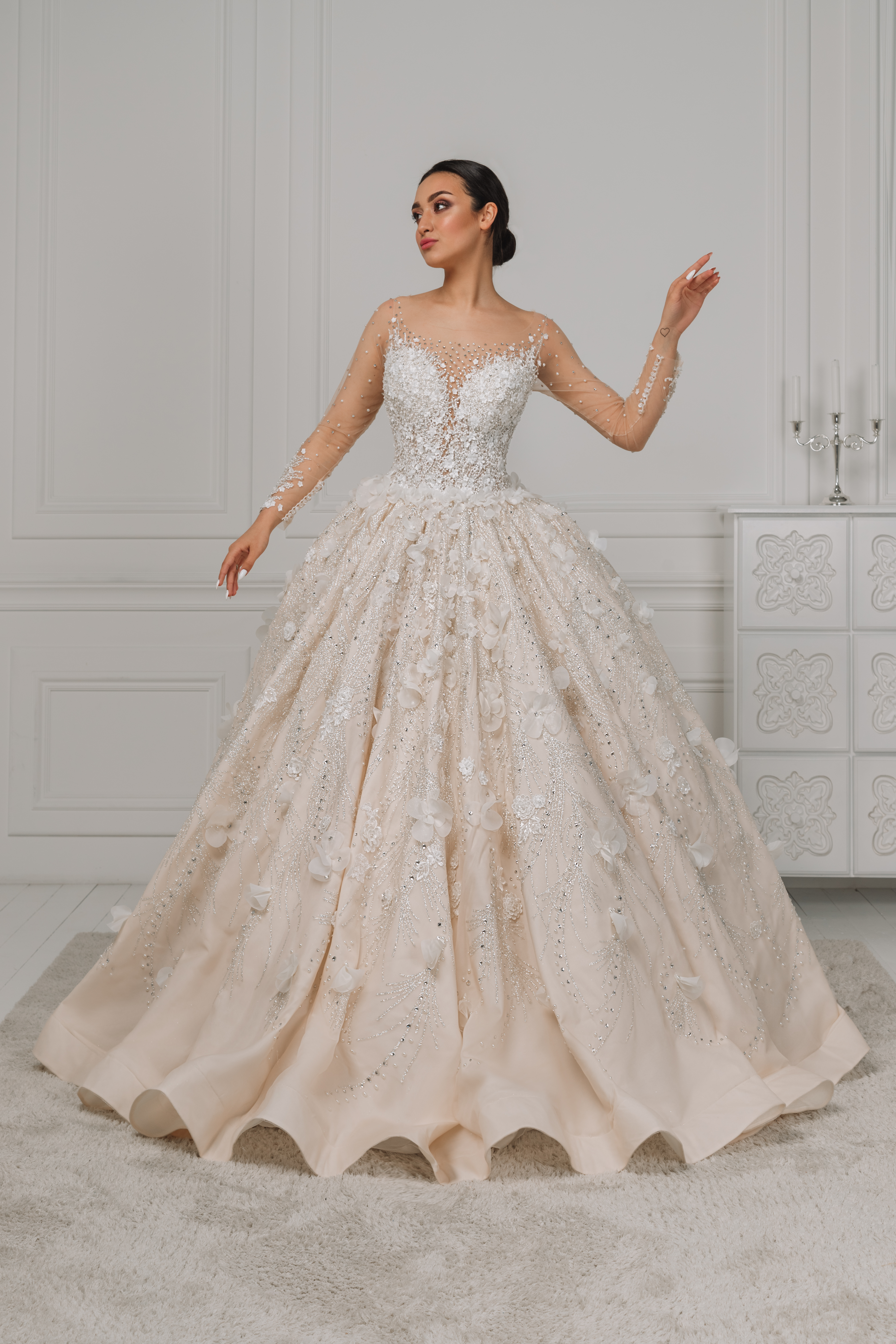 Do not hesitate, go ahead to choose a dress!
Ladies have always given certain magical features to the wedding dress. And, of course, this is the most desirable purchase for every woman. All kinds of decorative elements, tail, ribbons, lush bows, silk, lace elements, rhinestones, satin, beads and tulle – all this simply fascinates with its luxury and sophistication.
Modern brides approach the choice of dresses and the wedding as a whole very demanding.
Now many young couples want to divide the entire wedding day into logical parts. And, of course, each of them needs a separate outfit! As a rule, the main events are a marriage ceremony and a party with relevant traditions. However, there are many girls who want to wear a third dress for the wedding ceremony. But what about the photo session? Accordingly, we need a fourth outfit. Any bride wants to show off in a variety of models of outfits on her wedding day.
Tatsi factory-atelier offers you a wide variety of wedding dresses: lace, with or without sleeves, with fully open shoulders and straps, short dresses, fish dresses and many others.
Do you want the most magnificent dress for your wedding? We can easily provide you with such models. Do you like Greek style outfits? Try it on, you will surely like it.
Each dress of our company is developed by an experienced and talented designer. Our models of outfits will conquer you with their sophistication, exclusivity, charm and convenience. The collection of wedding dresses of our company is able to satisfy the wishes of even the most demanding brides. We produce dresses for any event and for every taste.
There are stylish maternity wedding dresses with matching accessories. Tatsi wedding dresses are exclusively of European quality. We will take into account any of your requirements and wishes, providing models of wedding dresses that are ideal for you. There are all kinds of classic models, as well as the most original and unconventional.
Tatsi cares not only about your beauty and originality, but also about your budget. Therefore, here you will find wedding dresses of exceptional quality at very affordable prices.
We cooperate with wedding salons, carry out wholesale deliveries of exclusive wedding dresses at affordable prices. We are always welcome mutually beneficial partnership!
Showing 1–16 of 103 results